Starting a parking lot line striping business allows you to work outdoors and set your own hours. It is also one of the most lucrative property maintenance businesses right now.

But wanting to start a line striping business simply won't cut it. You need to learn how to stripe a parking lot, determine the right legal business structure for your company, and figure out which bank accounts you need to acquire to ensure your finances are properly monitored.

So without further ado, here are some tips that you can use as your guide to starting your own striping company.
1. Learn the ropes
So you're planning to start a line striping business. You're excited to buy line striping supplies, register your business, acquire your first customer, and get started.
But hold your horses. Parking lot striping can be lucrative and fulfilling. But the path to success is littered with pitfalls and challenges – as is often the case in many business ventures.
It's easy to make mistakes in this business if you fail to do your homework. You can waste your money buying the wrong line striping equipment or apply parking lot lines without following the right specifications.
It's also so easy to go right ahead and offer line striping without acquiring the right permit, bank account, or insurance first.
The problem is these are not minor mistakes. Purchase the wrong type of equipment, supplies, or tools and you risk losing not just your money, but also your reputation as a new line striper.

Offer your line striping services without having adequate knowledge about parking lot striping layout, and you might as well say goodbye to your line striping career before it even takes off.
So before you take the plunge, make sure to do your homework first!
The things you need to know about this business are divided into two sections: line striping and business management.
The good news is the internet is a good resource for parking lot line striping and business management information. If you're looking for a complete guide on line striping, then check out Asphalt Kingdom's Line Striping Course.
In this course, you'll learn many things including the different pieces of equipment and supplies you need to jumpstart your parking lot striping business.
This is also your complete guide to proper asphalt surface preparation, how to create a parking lot layout, and how to price your line striping services.
Are you a new entrepreneur? Then check out this list of resources compiled by Entrepreneur magazine for new business owners.
Video: How to get started with a line striping business
2. Look for ways to fund your business
You have a great business idea, but it's not going to take off if you don't have enough startup capital.
A startup capital is necessary so you can purchase line striping machine and supplies, pay your employees, pay your bills, buy insurance, and more.
According to the Chamber of Commerce, 75 to 80% of small business entrepreneurs use their own money to fund their ventures.
But not everyone has personal assets to dip into to fund their ventures. If that's the case, then your other options for funding include:
Bank loans

Credit cards

Loans from family members and friends

Angel investors

Government grants

Loans from business acquaintances
Learn about the pros and cons of different funding options in this Nerdwallet article.
Related: ADA Handicap Parking Requirements & Cheatsheet
3. Choose the right legal structure
Choosing the appropriate legal structure for your business isn't just a fancy way to classify it. The legal business structure you choose will determine the type of paperwork you need to submit and the amount of taxes you need to pay. It will also determine your liability in case problems arise.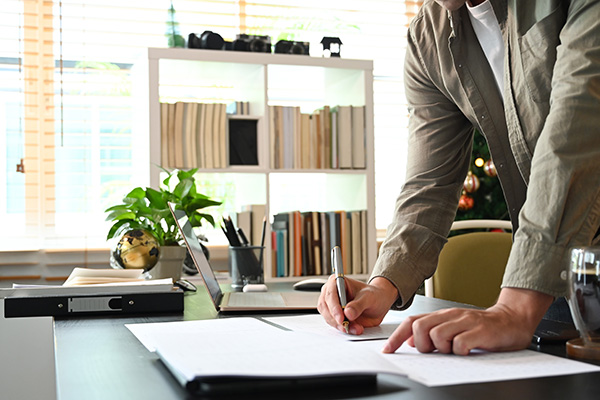 Let's take a quick look at the most common legal business structures available for line striping companies.
Sole Proprietorship
The Basics
As the name implies, this is a legal structure where the business only has a single owner. You're responsible for the entire operation of the company, and all personal assets are also considered business assets. This means that all liabilities your business accrues are also your personal liabilities.
Pros:
Very easy and inexpensive to form

No need to prepare separate income tax forms

Business owners can take advantage of certain tax deductions

Business owners retain 100% control of the company
Cons:
Business owner is personally liable when things go south

Lack of continuity when the owner dies or is incapacitated
Partnership
The Basics
If you have a business partner and both of you will actively manage the day-to-day operation of the business, then register your line striping company as a partnership. It resembles sole proprietorship in the sense that your personal assets are also considered business assets.
There are two types of partnerships: general and limited. In general partnerships, both business owners are involved in the decision-making process, and you are both personally liable for debts and other liabilities.
In limited partnerships, one partner has limited liability and is not involved in the decision-making process or the business's day-to-day operation at all.
Pros:
Easy and inexpensive to form

You and your partner can take advantage of certain tax deductions
Cons:
Little to no protection for your personal assets when legal problems arise (if in a general partnership)
Limited Liability Company
The Basics
A limited liability company (or LLC) is a legal business structure that consists of one or more business owners. These owners are called "members," and each member is actively involved in making decisions for the benefit of the company.
What sets it apart from sole proprietorship and general partnership? Unlike the first two legal business entities, your personal assets are protected from accrued debts and other legal claims.
Pros:
Personal assets are protected from business liabilities

An unlimited number of people can join to become "members" of the company
Cons:
More expensive to form compared to sole proprietorship and partnership

An accountant and a lawyer are necessary for compliance with taxation and other regulations
Corporation
The Basics
A corporation is a type of legal business structure made up of a group of people known as shareholders. Its decisions and operations are overseen by a board of directors who are elected by its shareholders.
Just like LLCs, shareholders are not liable for the corporation's debts.
Pros:
Protects shareholders' personal assets from business liabilities

Raising funds for the business is easier

Business continuity even if one or two shareholders leave the corporation
Cons:
More complicated to set up

Double taxation for shareholders
4. Do a deep dive into business taxes, insurance, and financial statement interpretation before you begin
There is nothing more exciting than becoming an entrepreneur. But running a business also involves a lot of responsibilities.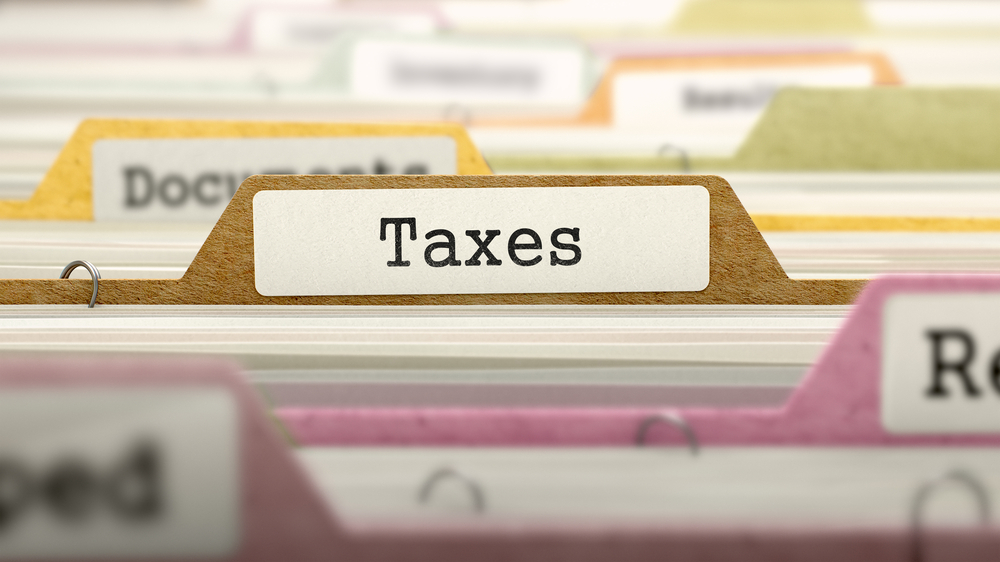 Organized folders with a focus on a folder labeled with "Taxes"
These include making sure that your taxes are paid on time and purchasing the right insurance for your line striping business. Knowing how to interpret your financial statements is also equally important.
The good news is you don't need to go back to college to understand these things.
You can buy books or eBooks about small business finance and taxation to learn about them. Or you can borrow these books from the library or use the internet to save money.
5. Create a solid business plan
It might be tempting to skip this part, but a business plan is essentially your company's roadmap. This document contains the type of services you offer and your goals for your business.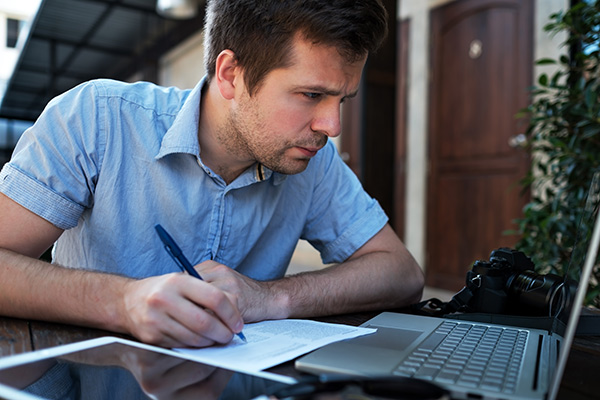 Entrepreneur creating business plan.
An analysis of how tight the competition is in your area is included in this document.
It also contains your marketing strategies, financial projections, and contingency plans.
Want to create a good business plan?
You can follow the U.S. Small Business Administration guide for writing a business plan.
Or you can commission someone else to write it for you. Check out Fiverr or Upwork to commission someone else to write your line striping business plan.
Related: How to Create a Sealcoating Business Plan
6. Come up with a catchy business name
When it comes to business names, you can use:
Your own name or the name of a loved one

A word that conveys strength, quality, or reliability

A name that connotes something positive

Something clever
But whatever business name you choose, make sure it is catchy and memorable. Steer clear of names that are hard to spell, pronounce, or remember.
Make sure that it reflects your company positively. In addition, choose a name that doesn't limit you in case you want to expand beyond line striping.
Choose a unique name (you can use Google for this), and purchase a domain name as soon as you settle on one.
Related: What Are the Standard Dimensions of a Parking Space?
7. Find the best line striping supplier for your business
You may be the best line striper in your area, but your reputation and bottom line can be damaged if you don't have a reliable supplier.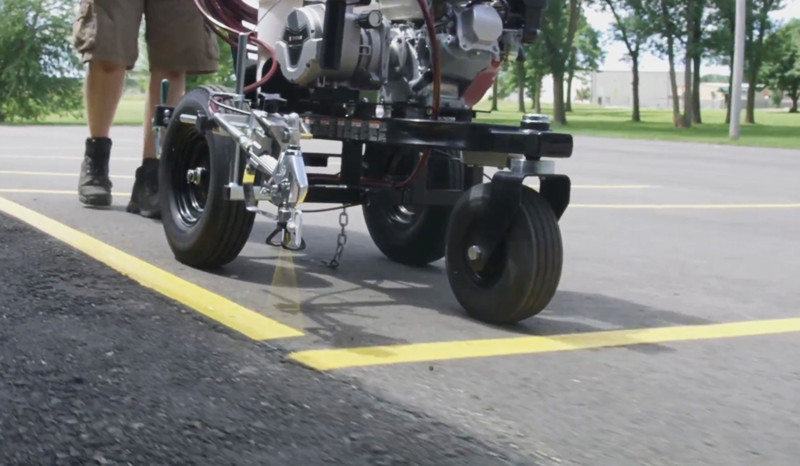 Line striping contractor using a Titan PowrLiner machine
So what do you look for in a good line striping supplier?
Quality of the products
Make sure that the supplier offers only the best oil-based and water-based traffic paints. If possible, purchase a bucket of paint to test it first before you commit to one supplier.
Reliable reputation
Is the supplier highly recommended by other line stripers?

Does it have a good reputation among the key players in the industry?

Is the business stable? Have they been in the business for many years?
These are just some of the questions you need to ask before you commit to a particular supplier.
Capacity
Is the supplier capable of delivering multiple pallets of oil-based paint at the drop of a hat? If not (and you're just going to lose money because they cannot accommodate your request), then it's better to skip them than compromise your business.
Secure website

If you'd rather order online, make sure that the supplier has a secure website. Don't entrust your personal data and credit card information to a website with a dubious reputation.
Check the website's URL and see if it starts with "HTTPS" instead of just "HTTP."
Check if the website has a valid address and phone number. Read the website's privacy and return policies. Lastly, if the prices are so low that it's too good to be true, then it probably is.
Fast delivery
Make sure that the supplier can deliver quickly, especially during the peak season. If there are supply or equipment inventory issues, is the company transparent about when those items are in stock and will be delivered?

8. Obtain multiple business bank accounts
Using your personal savings account might be the easiest route to track your finances or pay yourself, but don't do it.
Apply multiple bank accounts instead for your line striping business. What are these bank accounts for? Check them out below.
Income bank account. This will be your line striping business's primary bank account. All income you earn is deposited in this bank account first before the money is divided and sent to your other business accounts later on.
Operating expenses bank account. This will be used for payroll, purchase of supplies and equipment, insurance, accounting fees, and other expenses.
Net profit. Use this bank account to track your net profits.
Taxes. This will allow you to set aside money for your taxes.
Compensation. This is where you draw your salary as a line striping business owner.
Check out this Asphalt Kingdom blog to learn more about the different business bank accounts you need to acquire.
Related: Line Striping Tips and Tricks from the Pros
9. Have a plan in place for colder months
You probably know by now that you can only do line striping during the spring and summer (business owners who operate in tropical and desert climates are mostly exempted from this limitation).
So if you live in an area with lots of rain or snow during the latter and early parts of the year, then we recommend you have a plan in place to make money all year long.
Winter pothole repair is a good thing to try to make money this winter. You can also try snow removal, indoor stenciling and line striping, and winter tree maintenance.
Check out this Asphalt Kingdom blog to learn about winter money-making ideas for asphalt contractors.
Get Work All Year Long: Add Pothole Repair To Your Business
Conclusion:
Ready to start your line striping company? Use this handy guide to build a successful and profitable property maintenance business.
If you need help choosing the right traffic paint or the best line striping machine, simply give us a call at 1-866-399-5562. You can also use our asphalt traffic paint calculator to determine the amount of paint you will need for your very first project.