Sealcoating and crack repair services are highly profitable. But the bad news is most asphalt maintenance jobs can only be done during the spring and summer months. Once the air turns frigid and the snow begins to fall, it's time to put your sealcoating and crack repair equipment in storage and hibernate until spring arrives.
But you don't have to take a break this season and watch your savings account become depleted as the months pass. The good news is there are many ways to make money in the winter. Here are four winter money-making ideas for asphalt contractors (and others) that can help you reach those financial goals.
Winter Pothole Repair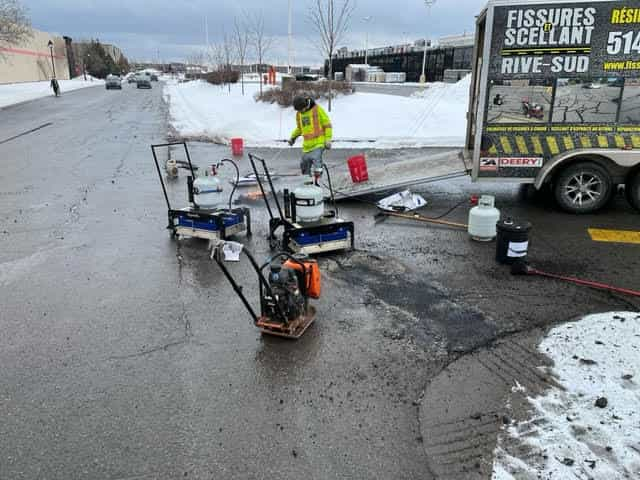 Asphalt repair is a great way to make extra money this winter. This is when cracks and potholes start cropping left and right because of the freeze-thaw cycles. And while that's bad news for property owners, that's a great opportunity for contractors like you.
There are two types of winter pothole repair. These are cold pothole patching and infrared asphalt patching.
Cold pothole patching is one of the easiest and most lucrative services you can offer this winter. All you need to fix a pothole is a bucket or two of pothole patch product, a tamper tool, and you're good to go.
No special equipment is required to apply the product, and the repaired area is ready to use after several minutes or a few hours after application.
Infrared asphalt patching is another service you can offer to new and existing clients this winter. Unlike cold pothole patching, you need an infrared asphalt heater to fix the depressed area.
So how do you fix a pothole or depression with this machine?
Infrared asphalt pothole repair
First, place the infrared asphalt heater on top of the pothole or depression. Wait for five to seven minutes for the asphalt to soften before removing the machine.
Rework the softened asphalt with a lute before dumping additional asphalt millings (if necessary). You can also spritz the area with some asphalt millings rejuvenator before tamping it down. Make sure that the entire surface is flat and even before driving over it again.
There are a few products you can use to patch asphalt during winter, but the good news is that they are pretty durable. Visit our cold surface patch and infrared patching pages to learn more about these products.
Snow Plowing/Snow Removal
Interested in making money through winter? Then why not offer snow plowing or snow removal services? You probably already have the tools and equipment sitting in your garage or storage area for this, so it's going to be easy-peasy.
But if you're new to this and you have no clue on which equipment, supply, or tool to buy, then don't worry because we've got you covered.
Related: Snow Removal Business: How To Make Extra Cash This Winter
Applying ice and snow melter is a great addition to your existing asphalt maintenance, lawn care, or gardening business. While it's true that deicers are so easy to apply any property owner or facility manager can do it, not everyone can set aside the time for this task.
But before you order a bucket of ice and snow melter, make sure that it's pet and plant friendly, as well as safe to use on asphalt or concrete. Invest in a walk-behind or a tailgate spreader to make the application easier.
Snow pushers and snow throwers
If money is an issue, then it's best to purchase a snow pusher first. Most snow pushers cost less than $100, so it will not make a significant dent in your initial budget.
But if you want to splurge a little and be more efficient, then invest in a snow thrower. The most affordable ones can be purchased for less than $200, but more popular brands offer pricier models ($250 and beyond).
Why be out in the cold when you can remove snow from driveways and parking lots inside the comfort of your car, right? With snowplows, you can do just that.
Snowplows are available in different configurations and can be attached to different vehicles. The day winter arrives, you can convert your pickup truck or utility vehicle into a handy snowplow.
Last but not least is power brooms. Yes, that surface prep equipment that you use to remove loose rocks and dust from pavements can also be used to remove snow from sidewalks, driveways, and parking lots.

Indoor Stenciling and Line Striping
With the ground covered in snow and ice, it's time to take your indoor stenciling and line striping indoors. Some of the facilities you can approach include warehouses, factories, airports, hangars, and more. You can also paint indoor sports centers, basketball courts, tennis courts, indoor arenas, and more.
You may also have some letter and number stencils lying around in your storage area. Don't let them (and the paint) go to waste this winter. Use them to stencil numbers and letters in indoor parking lots.
Winter Tree Maintenance
Here's a little off-beat way to make extra money in the winter: tree lopping and pruning.
Winter's a good time to prune and lop off tree branches because most of the leaves have fallen by now. This gives you a better line of sight on the tree branches, making them easier to cut.
But before you get too excited, make sure that you study everything about tree pruning and that you have all the tools on hand. Check out the tools you'll need to get started at tree pruning.
Pruning shears
Loppers
Pruning saw
Electric and gas-powered pole saw
Ladder
But hold your horses. Before you get too excited about offering this service, here are some dos and don'ts on tree lopping and pruning.
Do
Know everything you need about tree care before you offer this service.

Use sharp shears, loppers, and saws.

Be extra careful when mounting a ladder while holding any of these tools.
Don'ts
Do not touch or cut branches 10 feet from electrical wires.

Do not be overzealous with pruning. Remove only as much as 25% of the foliage.

Do not cut too closely on the branch's collar.
Conclusion
If you have additional questions about our products or about any money-making ventures you can do this winter, then give us a call at 1-866-399-5562. We're more than happy to answer your questions and give you some tips on how to make extra cash to finish this year stronger than ever.