Starting an asphalt repair business during normal economic conditions can be daunting – even more so during a recession! The odds are stacked against you, and you're already wondering if it's the wisest thing to do even before you start writing your business plan.

Despite the gloomy economic forecasts, a recession is still a good time to start an asphalt repair business. Learn why asphalt maintenance is a recession-proof business and how you can safeguard your company from crisis during these tough times.
What is a Recession?
A recession is defined by the National Bureau of Economic Research as a period of significant reduction in a country's economic activity.
Declining chart showing a recession

For an economic downturn to classify as a recession, it should be:
Widespread. Recessions affect almost all industries and regions of the country. But this is not to say that all businesses are going to take a hit. A lot of sectors are resilient and recession-proof.
Prolonged. One of the key indicators of a recession is a marked decline in a country's gross domestic product for at least two consecutive quarters.
Are We Heading Into a Recession?
Nothing alarms economists, business owners, and employees more than the word recession. As early as May, economists have predicted that a recession may be on the horizon and may affect different industries.
But how severe is this recession going to be?
According to J.P. Morgan's economists, the USA will experience a mild recession next year.
On the other hand, other economists are less optimistic. According to Mohamed El-Erian, next year's recession will likely be severe. It will upend not just the US, but also result in long-term changes in the global economy.
But whether the coming recession is mild or severe (or whether there will be a recession at all or not), it's best to be prepared for any eventuality.
What Happens to Businesses During a Recession?
Unfortunately, the majority of businesses in the US and Canada were affected by the Great Recession of 2007-2009. Even large multinational companies across all sectors could withstand the pressure and completely went under. Others barely managed to stay afloat.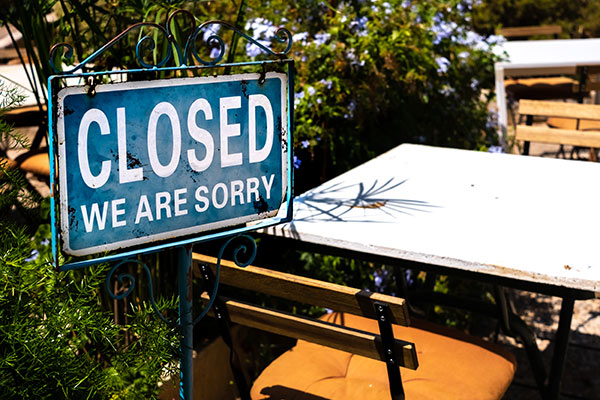 The recession and the rise in prices causes the closure of businesses.
A lot of small businesses were not so lucky. Approximately 1.8 million small businesses had to close shop between December 2008 and December 2010.
But it's not all bad news. In fact, a sizable number of businesses managed to survive, thrive, and emerge from the crisis stronger and more resilient.
Related: How to Patch Asphalt: 7 Important Tips
How Would a Recession Affect Me?
Recessions impact everyone in one way or another, but that doesn't mean that the impact is going to be felt equally by everyone. Historically, construction, restaurant, retail, and leisure industries are especially vulnerable to the downturn.
A lot of employees could lose their jobs during a recession, driving unemployment up. No one will be spared – even CEOs and employees with graduate degrees could be laid off when a recession hits.
Even the lucky ones who manage to hold on to their jobs can face difficulties and uncertainties in their employment. Pay raises are going to be harder to obtain, and promotions are going to be few and far between.
Are you currently employed but thinking of leaving your job for a more lucrative business opportunity? Or have you been looking for a business venture that can weather recessions and other economic storms?
If you answered yes, then it's time to learn more about the asphalt repair business.
Why Asphalt Repair is a Recession-Proof Business
Despite the widespread economic downturn, some industries have proven time and again to be more resilient against the impacts of a recession.
Government and healthcare employees are in a good spot because of the stability of these sectors. Those in the computer and information technology and education sectors can also breathe a sigh of relief. These industries are largely stable even during a recession.
But resiliency is not limited to these industries. Another sector that not only survived but also thrived during the recession is asphalt repair.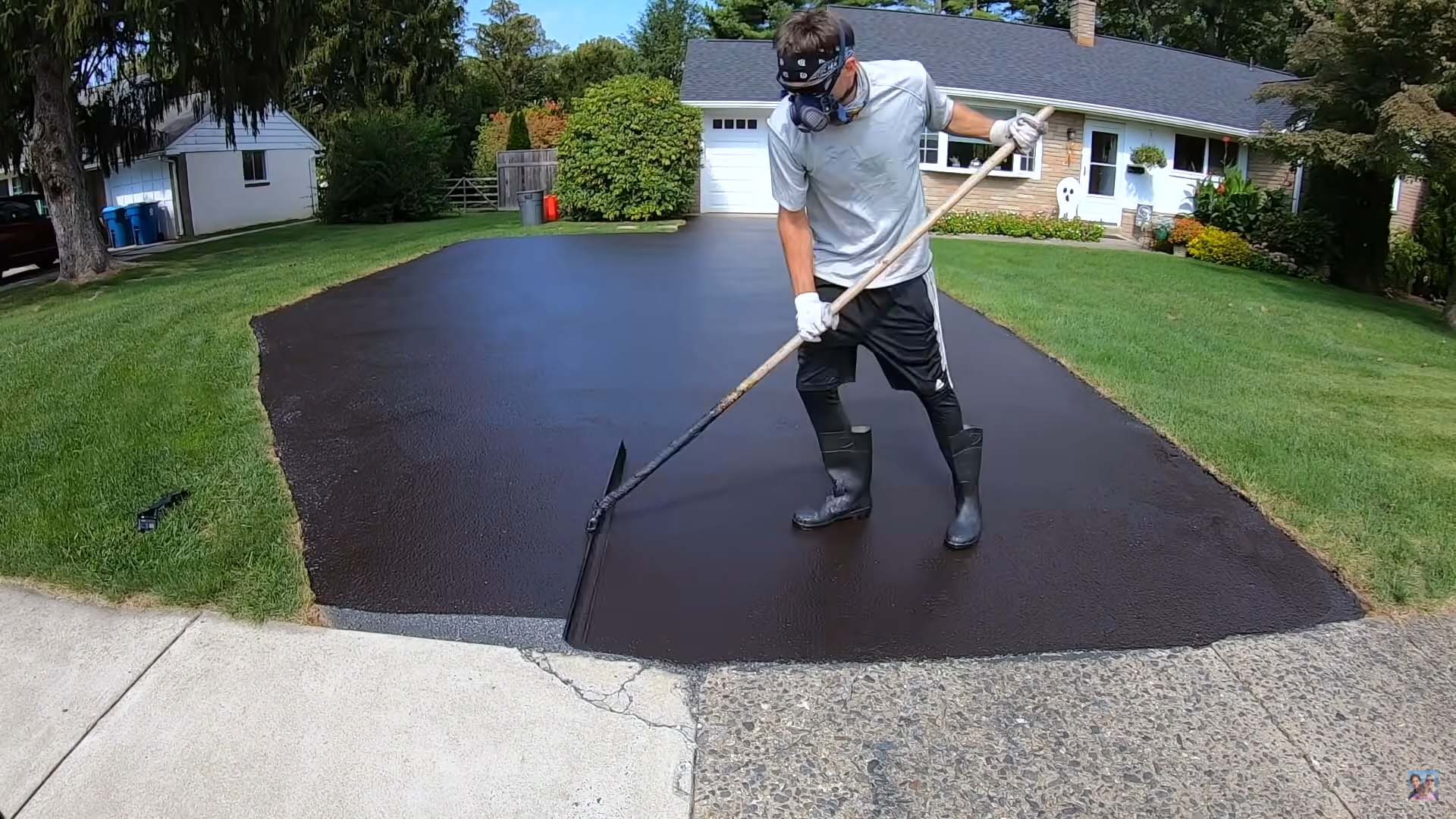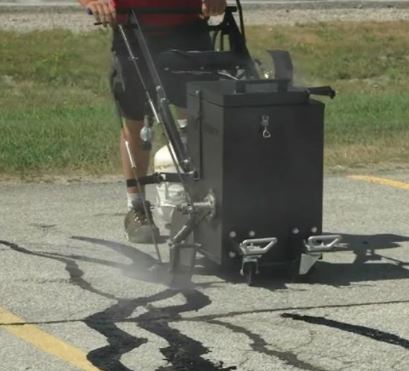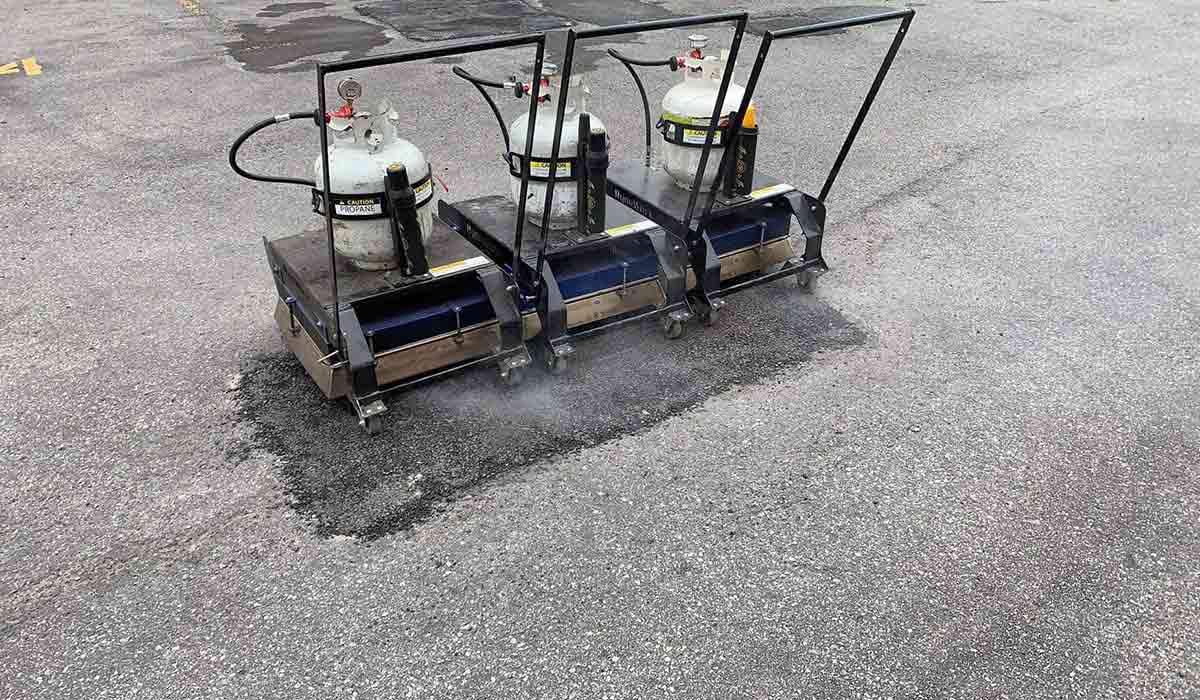 Three services fall under the umbrella of asphalt repair, and these are sealcoating, crack filling, and pothole patching. So what makes this business particularly recession-proof? Let's find out.
1. Asphalt maintenance and repair still happen even in an economic crisis
During an economic crisis, people cut or delay spending on major expenses. Times are hard, so there's no need to tear off an old driveway or parking lot when it's still perfectly fine.
What residential property owners and business owners opt for instead is to spend money on repairing what needs to be repaired and maintaining what they already have.
Despite the crisis, people will still need their driveways and parking lots repaired and maintained, and that is a fantastic opportunity for asphalt maintenance contractors everywhere.
Video: Dealing with recession and why opportunity lies ahead
2. Asphalt repair is a good source of recurring revenue
Asphalt is a material that is found everywhere. It's the pavement you drive on to and from work. It's the material used to pave your neighbor's driveway. It is used to build runways, parking lots, running tracks, railway beds, ports, bicycle paths, and more.
No matter how these pavements need to be repaired and maintained. Because this material is everywhere, you have this amazing opportunity to earn recurring revenue year after year after year.
Video: How much money can you make sealcoating?
And this recurring revenue is not something to sniff at. In fact, you can earn hundreds of dollars in one day alone simply by conducting sealcoating, crack filling, line striping, and pothole patching.
Related: 4 Winter Money-Making Ideas for Asphalt Contractors
3. Asphalt repair can be done even during the fall and winter
Seasons are an asphalt contractor's best friend, but they can also be your greatest enemy.
Sealcoating, crack filling, and line striping is done during spring and summer (and to some extent, fall). But the moment rain and snow begin to fall in earnest and the wind turns chilly, then it's time to pack up your equipment and wait until spring arrives.
But there's one asphalt repair service that can be conducted even during the winter and that's pothole patching.
Video: Make money with infrared pothole repair
When it comes to pothole patching, it doesn't matter whether it's snowing outside or there's been a bit of rain a few hours before.
You can still patch up those potholes using cold mix asphalt or by using an infrared asphalt heater and some asphalt millings. This way, you can still make thousands of dollars and keep your bank account at a healthy level even when the asphalt maintenance season has officially ended.
4. You're not limited to just the usual asphalt maintenance services
The beauty of an asphalt maintenance business is its versatility. Asphalt maintenance may be your bread and butter now, but you can always expand your list of services at any time to supplement your income.
Its versatility allows you to make more money during slow days or the fall and winter months. It also ensures that your bank account balance is healthy all year long and that you have enough money to invest in new equipment, supplies, and tools in the future.
Video: Landscapers are growing money on trees by sealcoating asphalt

So, what other services can you offer that will complement your asphalt maintenance business? Here are some suggestions.
Lawn maintenance

LED accent and holiday lighting

Snow plowing services

Fall or spring cleanup

Junk removal

Tree trimming and removal

Graffiti removal
Who Can Start a Sealcoating

Business?

Anyone can start a sealcoating business. Over the years, we've met people from all walks of life who pivoted to asphalt repair business and are now thriving as business owners.
How Do Asphalt Repair Contractors Weather Economic Crises?
As mentioned, recessions are a time of great uncertainty. Even though the asphalt maintenance industry is more than capable of surviving economic downturns, things can still go sideways so it's best to be prepared. Here are some practical tips to prepare for a recession and lessen its negative impact on your business.
1. Have a game plan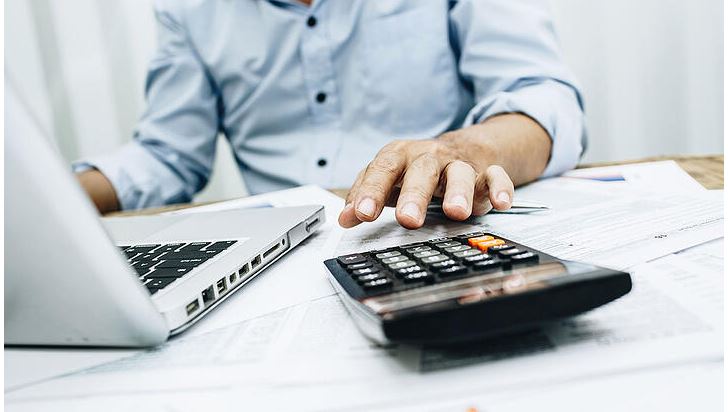 Businessman creating a business plan.

The best way to survive a recession is to have a game plan. As early as now, create contingency plans A, B, and C to minimize the impact of an economic crisis.
2. Stock up on asphalt maintenance supplies and equipment
Sustained inflation is one of the harbingers of an oncoming recession. High prices are going to hurt your bottom line. That's why it's better to stock up on supplies and invest in asphalt equipment while they're still more affordable.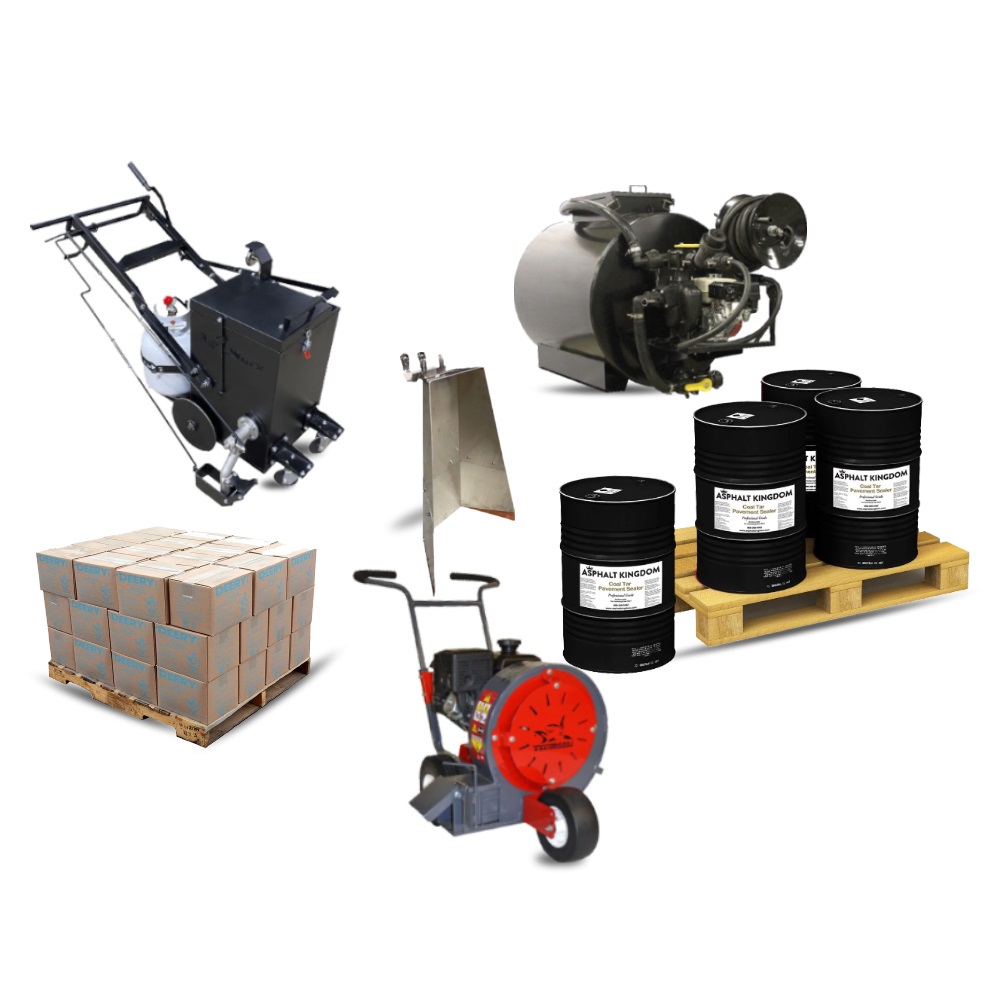 Silver Sealcoating Business Package

Planning to start your own asphalt repair business? Check out Asphalt Kingdom's equipment and supplies now to learn more about them.
Related: 5 Marketing Angles Proven to Increase Fall Business
3. Reduce or cut unnecessary expenses and save aggressively
Some of the business expenses you can reduce, limit, or cut completely include
Expensive conferences and trade shows

Energy-sucking appliances and equipment

Paperwork

Ineffective advertising

Employees whose performance is subpar

Overly large office or storage space
In addition, pay credit card and other loan fees on or before the due date to avoid paying late fees.
4. Refrain from accepting credit during a recession
As much as possible, ask your customers to pay in cash instead of accepting credit. This is to keep a healthy cash flow for your company and help your business stay afloat even during difficult times.
That's not to say that you should avoid accepting credit entirely. You can still accept credit payments from long-time and trusted customers.
5. Versatility is the key to survival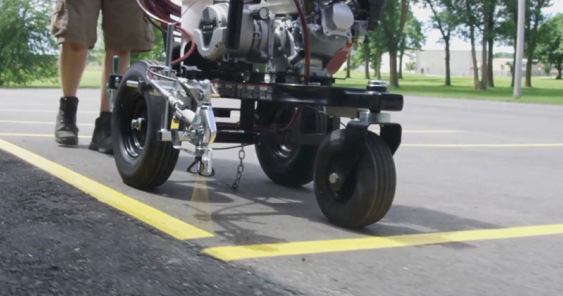 Linestriping using PowerLiner PL3500
Sealcoating and crack filling are your specialty. But in times of crisis, it pays to be versatile. Learn other skills, such as line striping and pothole patching, to expand your list of services and acquire more customers.
6. Lock in next season's customers as early as now
Fall and winter are not the time to sit back and relax. In fact, being cooped up inside the house with nothing to do is the perfect time to get ready for the next season. Ramp up your efforts to find leads and get more customers for your business.
Get a headstart against the competition by sending out well-crafted proposals as early as now. That way, you can plan ahead, stock up, and map out your schedule.
7. Avoid taking on additional debts
The last thing you want to do when there's a recession is take on more debt. As much as possible, use your savings to start your asphalt maintenance business.
If you don't have some money set aside to start your business, then look for low-interest loans from trusted lenders. Steer clear of debts with extremely high interest rates as these will eat away at your profits.
Conclusion:

It's never easy starting a business during an economic crisis. But by choosing a recession-proof venture and with the right information from trusted experts, you're well on your way to making your asphalt repair business a success.