Sealcoating is straightforward to learn, and anyone with asphalt on their property needs the service. You can add sealcoating to an existing landscaping or snow shoveling business relatively easily. This choice can increase your profit margins and bring in more customers.
The Benefits of Adding Sealcoating
The most significant benefit of adding sealcoating is that your existing customers likely need the service. You can use these connections to launch the sealcoating service quickly. You'll also be meeting more of your customer's needs, which increases the chances of repeat business.
You already have the workforce as part of your landscaping or snow shoveling business. Since those tend to be seasonal, many of your workers will be thrilled you're offering more opportunities for them.
Sealcoating also uses many similar tools to your landscaping or snow shoveling business. For example, trucks can transport sealcoating equipment as efficiently as lawnmowers. Other miscellaneous tools like blowers can make surface preparation easier too.
Depending on where you live, sealcoating may be a viable year-round activity as well. Additionally, crack sealing is a year-round necessity almost everywhere, so if sealcoating takes off, you have another possible service with minimal startup costs.
Items to Consider Before Adding Sealcoating to Your Existing Landscaping or Snow Shoveling Business
Before adding a new service to your landscaping or snow shoveling business, there are a few questions you should consider. These will help you determine if this is the right step for your existing company
Is Your Existing Business in a Good Place?
If your current business has you running all over town and stressed out, adding another service will not help settle that. However, if you've been growing your business steadily for a season or two and it doesn't feel like too much, it's a good time.
The other consideration is the feedback and requests for fixing work done by your company. If you're experiencing frequent complaints, that's a quality issue and does not go well with adding sealcoating.
What's the New Marketing Strategy?
Suppose you add sealcoating to your landscaping or snow shoveling business. In that case, you need to consider how it will change your marketing strategy. Since sealcoating is also a contracting service, your existing system should work with a few alterations.
Generally, the easiest way to sell sealcoating services is by showing people how it changes and helps their asphalt. Asphalt Kingdom recommends that someone canvas the street while your crew performs the sealcoating, which may differ from your other lead generation techniques.
You can also intertwine your services to upsell them. For example, when the spring contracts begin, you could offer the homeowners sealcoating on their first visit. This upselling increases the value of a trip to the property.
Is Sealcoating an Unmet Need for Existing Customers?
One thing about easily adding sealcoating to your landscaping or snow shoveling business relies on your customers' need for the service. By extension, that distinction means they own an asphalt driveway or parking lot.
If you do residential snow shoveling primarily in neighborhoods with exclusively concrete or gravel driveways, your existing customer base does not need sealcoating. That means you'll need a different strategy to gain customers, which is a more significant investment of your time.
Of course, your existing customers are not the only customers available. You can cold call for parking lots that you see around town to get your business going. This method may take longer, though, so make sure your business can support the time.
Why Do You Want to Add Sealcoating?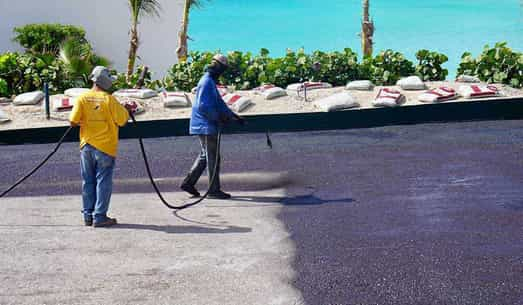 Adding sealcoating will change your landscaping or snow shoveling business. If you want to add it to fill a community need, employ more people within your town, some other passion, it is more likely to work out for your company.
If you're adding sealcoating because there's new competition in your market or you had a bad week, you may want to reconsider. Competition is simply encouragement to deliver higher quality services. Plus, sealcoating equipment will not fix a bad financial week right away.
Does sealcoating sound like a good fit for your landscaping or snow shoveling business? Give Asphalt Kingdom a call at 1-866-399-5562, and the professional service team will help you find the right equipment for your situation.