If you live in temperate climates and you're an asphalt maintenance business owner, it's normal for you to dread the arrival of fall. Fall means the number of people signing up for sealcoating and crack repair services are now fewer and farther between.
Frequent rains are normal during this time, and some parts of the country even get rogue snow, making the ground too wet or too cold for proper asphalt maintenance.
For those who dread the arrival of fall, we've got some good news for you. With these 5 marketing angles, you can effectively increase fall business for your asphalt maintenance business.
What Is a Marketing Angle?
A marketing angle refers to how you bring attention to your crack repair or sealcoating services in a way that will hook your client in. Finding the right marketing angle can help you communicate with prospective customers better and improve your conversion rate.
1. Know Your Target Audience
To understand your audience better, it's best to learn more about them by conducting a survey on your website or through email. A survey will let you know whether the people who are likely to use your services are residential property owners, commercial property owners, or facility managers and grounds managers. Age, gender, occupation, and income are other crucial pieces of data that can be extracted from these surveys.
Knowing who your target audience is will help you refine your marketing strategy. Let's face it, not everyone who sees your ads or YouTube videos is your target audience, so you need to be smart when crafting and refining your marketing. By filtering out the people who are uninterested in your service, you can conserve your efforts and focus on customers who are more likely to say yes instead.
2. Identify Your Customer's Problems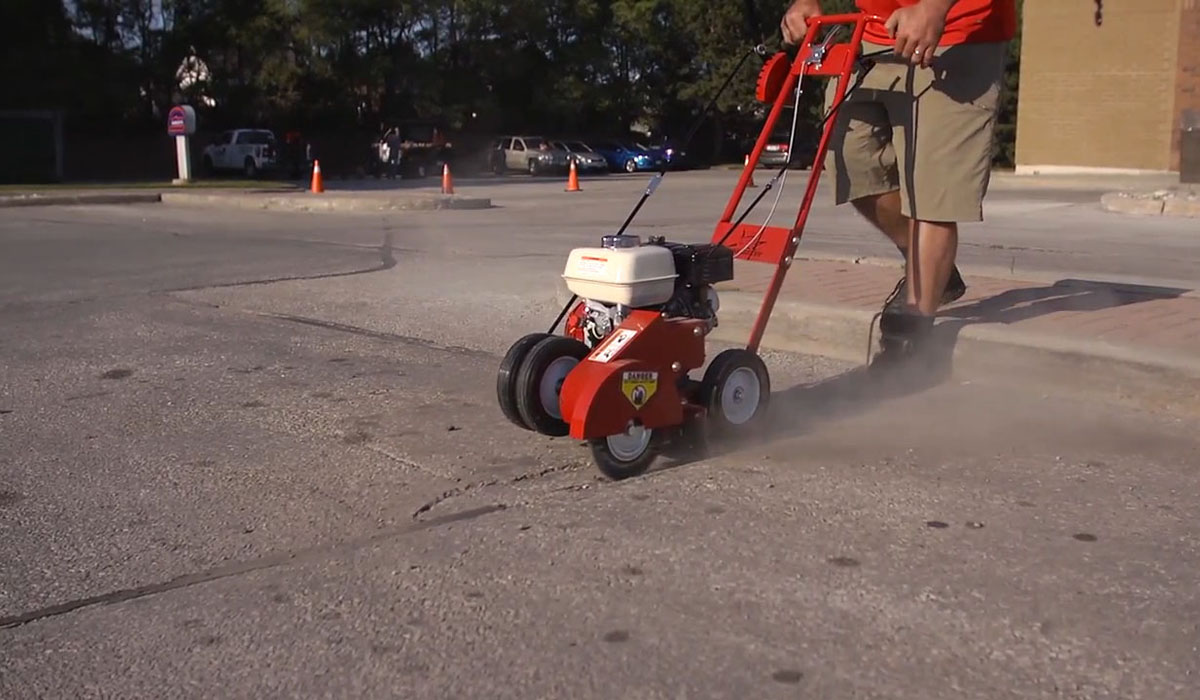 Image of a contractor cleaning out an asphalt crack to be repaired.
The people who sign up for sealcoating and crack repair services this fall are likely people who just came back from summer vacation or were so busy that they forgot to have their properties maintained. Perhaps they didn't have enough money during summer months and they were just waiting for the right time to get their driveways and parking lots maintained.
You can use these situations to your (and their) advantage. We recommend that you identify the problems your target audience faces and lay them out clearly before showing your customers the benefits of signing up for your services during these crucial months.
For example, if a parking lot owner has potholes that can lead to injury, you can tell them how one pothole cost a business $232,000. It would be easy to sell them the benefits of pothole repair.
Related: FREE Pothole Repair Flyer
3. Make It Easy for Your Customers to Say Yes
Customers are more likely to sign up for your service if you can show them how your sealcoating and crack repair services can make their lives easier or save them money in the long run.
For example, a commercial property owner with a 10,000 sq. ft. parking lot doesn't have enough time to comb through and contact sealcoaters operating in their area.
Make the process easier for them to work with you by showing up on their doorstep and leaving a proposal and a multi-year pavement asset management plan. If you're lucky, you'll hit two birds with one stone when the customer signs up for crack repair service now, as well as proactive asphalt maintenance for the next 10 years or so.
4. Lay Out the Benefits of Your Service
Explain how beneficial it is to conduct sealcoating and crack repair to your customer's driveway or parking lot while the weather is still relatively warm, and before the snow has fallen. Emphasize how sealcoating can extend the pavement's lifespan, as well as prevent further damage and erosion in the asphalt's foundation.
5. Showcase Limited Time Offers
Many people loathe to miss out on a great deal, so you can use this season to offer fall-specific discounts. Offer a Halloween or Thanksgiving sale to encourage property owners and facility managers to sign for your service now and before the year ends.